Calendar of Events - 2021 - 2022
Remembrance Day - 11th November 2021
The service and wreath laying usually held at the Heidleberg Repatriation Hospital has been cancelled for this year because of Covid 19
We will remember them.
Lest We Forget.
.
---
Calendar of Events - 2022
All events will go ahead if the Government restrictions due to the Covid 19 pandemic allow....
Shrine Pilgrimage and Annual General Meeting
Sunday 6th February 2022
The Shrine Pilgrimage will be held at the Shrine of Remembrance, Melbourne.
The program is as follows;
11.15am - Assemble at 2/21st Bn. Memorial Tree (Just NW of the northernmost Shrine Steps). We will conduct a quick Annual General Meeting before the Shrine service.
11.45am - Move to Shrine's north entrance and assemble in the Sanctuary for the 12 noon service. No late admission.
12 noon - Memorial Service inside Shrine.
12.30 - Goodbyes out side.
Unfortunately, due to the Covid 19 numbers being high, the Committee have decided not to offer any refreshments after the service. We hope for safer circumstances next year.

Regards to all and hope to see you at the Shrine.

Gull Force Committee.
---
Anzac Day 25th April 2022
March. Melbourne.
The 2022 Anzac Day March will proceed as normal before Covid restrictions.
Assembly is Flinders St. east, south side at 10am.
The R.S.L have sent a reminder that it is a formal March, not a parade. General rules of the March are:
One set of medals per family member.
Neat casual attire to be worn.
No football jumpers.
No photos to be carried & no prams.
National dress or costumes are not to be worn.
Only Association banners to be carried.
The March steps off at 10:28am, (form up 10:00 south side Flinders St. / Federation Square.) The March will proceed to the Eternal Flame at the Shrine of Remembrance.
Registration is not necessary.
Unfortunately, due to hotels now requiring exact numbers and payment up front for bookings, we will not be having a reunion this year after the march.
The Gull Force Committee is looking to have a family reunion at the Gull Force Tree in the grounds of the Shrine, lunch time on 10th September 2022. We will have a wreath laying ceremony as well. I will put more information here later and invite those of you who haven't joined our Face Book group to do so, as information is put there regularly. The Group is called Gull Force Association.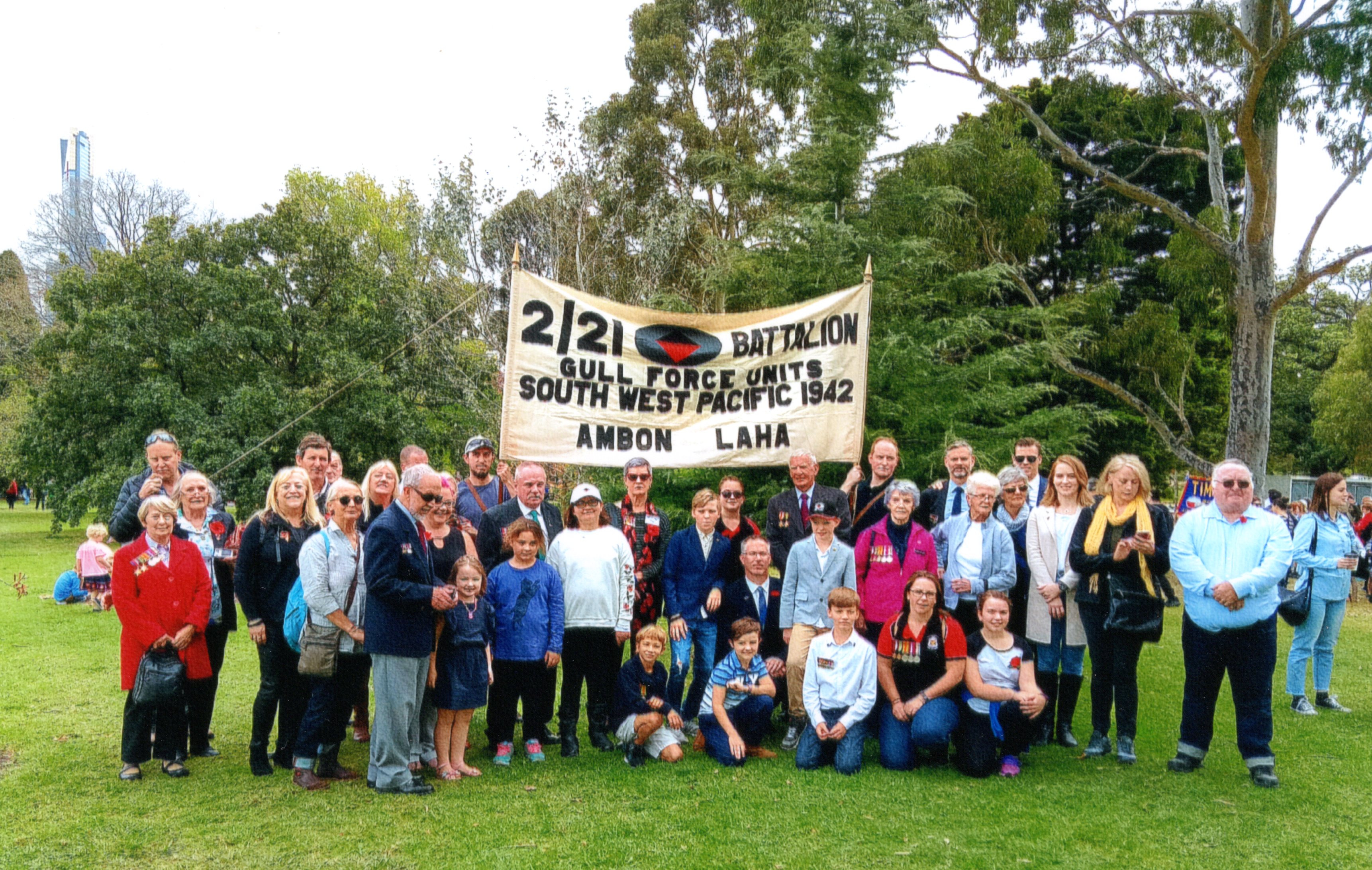 Anzac Day march - Melbourne 2018
---
New Event: Family Day at the Gull Force Tree.
Saturday 10th September 2022
The Gull Force committee has organised a family day to be held at the Gull Force tree in the grounds of the Shrine of Remembrance in Melbourne. The tree is located just NW of the Northern most Shrine steps.

Please gather at the tree from 11am on Saturday 10th September 2022. Bring your own lunch and seating and any memorabilia you would like to share.

There will be a short remembrance service and a wreath will be place at the tree.
All people interested in Gull Force are welcome to attend.
Remembrance Day - 11th November 2022
A service and wreath laying will be held at the
Heidleberg Repatriation Hospital
Memorial Garden 300 Waterdale Road Heidleberg West (Melways map 31 F4)
Entrance to the carpark via Gates 8 of 9 in Waterdale Rd.
Lunch will be provided by the hospital.
10.00 to 10.30am - Arrive before the RSL service.
10.45am - RSL Service and wreath laying.
Followed by lunch and get-together.
---