Calendar of Events - 2020 - 2021
Remembrance Day - 11th November 2020
The service and wreath laying usually held at the Heidleberg Repatriation Hospital has been cancelled for this year because of Covid 19
We will remember them.
Lest We Forget.
.
---
Calendar of Events - 2021
All events will go ahead if the Government restrictions due to the Covid 19 pandemic allow....
Shrine Pilgrimage and Annual General Meeting
Sunday 7th February 2021
The Shrine Pilgrimage will be held at the Shrine of Remembrance, Melbourne.
The program is as follows;
11.15am - Assemble at 2/21st Bn. Memorial Tree (Just NW of the northernmost Shrine Steps).
11.45am - Move to Shrine's north entrance.Gull Force Veterans assemble just north of the Eternal Flame for march to Shrine
12 noon - Memorial Service inside Shrine.
12.15pm -Annual General Meeting .
12.30pm - Refreshments at The Shrine Visitor's Centre.($10.00 per person or $20.00 per family*)
* family = 2 adults and 2 children under 16

Regards to all and hope to see you at the Shrine.

Gull Force Committee.
---
Anzac Day 25th April 2021
Reunion and March
The Anzac Day march in Melbourne will be advertised in the newspapers.
We will have a get-together at the Mail Exchange Hotel. 688 Bourke St., Melbourne.
Corner of Spencer St and Bourke St. opposite Southern Cross Station.
from midday onwards.
We hope to see you there.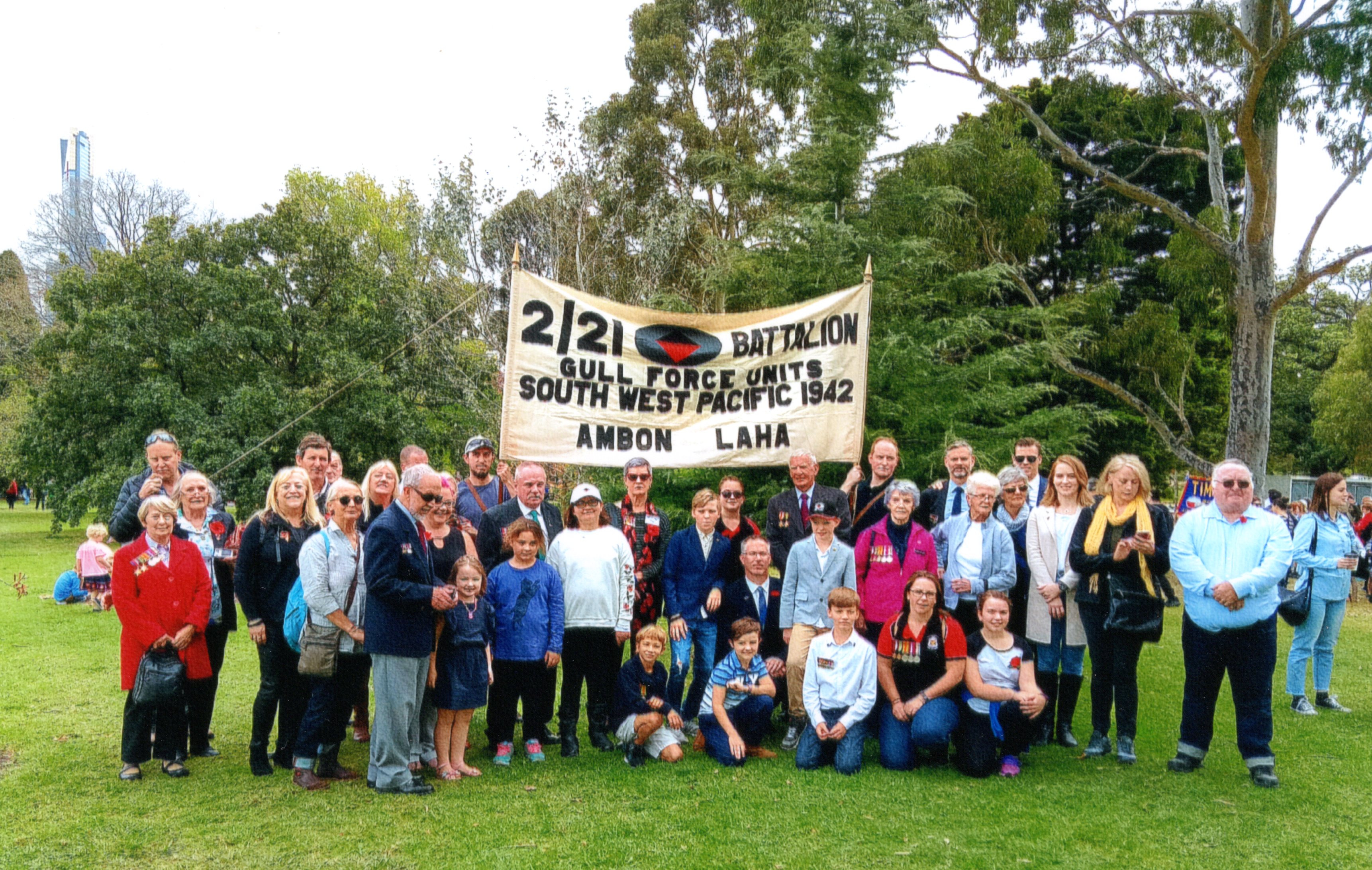 Anzac Day march - Melbourne 2018
---
Remembrance Day - 11th November 2021
A service and wreath laying will be held at the
Heidleberg Repatriation Hospital
Memorial Garden 300 Waterdale Road Heidleberg West (Melways map 31 F4)
Entrance to the carpark via Gates 8 of 9 in Waterdale Rd.
Lunch will be provided by the hospital.
10.00 to 10.30am - Arrive before the RSL service.
10.45am - RSL Service and wreath laying.
Followed by lunch and get-together.
---